Training people to manage emergencies
Kia ora and welcome from the team at Devereux-Blum Training & Development Ltd.  As a Provider of Solutions working in Emergency Management we look forward to supporting you now and in the future.   We work in all sectors nationally: Non-Government and Government (State Sector, State Service, Public Sector and Public Service).
With our 26 years of knowledge, skills and experience we listen to your training needs and work alongside you to plan the how, when and what you need for your organisation and people.  We build long term relations, providing continuity and reliable support. Our goal is to work to a standard of excellence from the time we connect with you, ensuring our journey together is positive and rewarding.
Our services range from developing and delivering tailored on-line/face to face training courses/packages, to facilitating desktop/ real exercises,  Governance workshops, reviewing Plans and Procedures, providing online coaching and much more.
As a NZQA Category 1 accredited Training Education Provider we are on a four-year evaluation cycle.  At our review in September 2022 we achieved Highly Confident and Excellent in all categories.    See our details on NZQA and the standards we are accredited to deliver.  
We specialise in the delivery of quality CIMS (Coordinated Incident Management System) training courses nationally. If required, we can deliver and assess to NZQA unit standards to Level 5.   CIMS in-house, multi-agency in-house or public multi-agency training courses are training services we deliver every week. Our 'blended' CIMS online training package which includes self-paced online modules followed by a 'live' online workshop facilitated by our experienced Trainer continues to be an excellent option in upskilling  people and organisations .
Bringing a depth of knowledge, expertise and experience to the 'learning space' we train people within organisations to lead, manage and respond effectively and efficiently to an incident(s)/ multi-incident(s) response. Working within your own agency or a multi-agency response.  For more information, contact us
Feedback from our valued clients:
CIMS 4 
I really enjoyed the training.  I thought Sharyn captured the perfect balance between giving input on information and content when needed.  Allowed groups to talk through information and make sense of it.  I enjoyed the scenario and appreciated the chance to put some of the new learning into practice.  November 2023
Overall it was a great interactive training and very knowledgeable and approachable facilitator.  November 2023
Training good, really great bunch of people attended and it was good to discuss much of the course material with them.  November 2023
Fantastic.  Energy and experienced knowledge from Sharyn.  Thank you.  September 2023
Loved the 'conversation' style of the training.  September 2023
CIMS 3
Great that it was tailored to our organisation.  Lots of team activities and scenario based examples.  November 2023
Very involving style with practical experience and examples which are relatable to our operation.  November 2023
Presenter was great.  Explaining the subjects in easy to understand terms and presentation was clear and precise.  September 2023
I thoroughly enjoyed the training.  It was more than an exercise and I could see how it applied to real world situations throughout.  The trainer created an uplifting learning environment where a lot of information was given and absorbed in a short period of time.  September 2023
CIMS 3 Online
A good guide, resources provided were very helpful.  November 2023
Self-paced online learning combined with the virtual meeting was effective and appreciated. November 2023
I liked the short videos so I could watch one video, digest the info before starting on another video.  November 2023
Call us on 04 232 5363 to talk with one of the team or email us for more information.
Check out our CIMS (Co-ordinated Incident Management System)  Business Continuity Planning and other tailored training packages.  Click below to hear our Trainer Paul speak about how we can help your organisation be prepared for any event:
View our in-house training, public courses, facilitation, coaching, consultancy services that are available nationally and internationally in a timeframe and format that works for your organisation.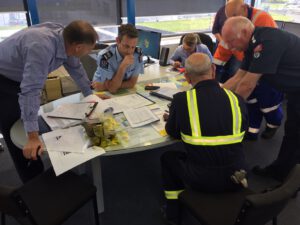 An exercise is a simulation of an emergency situation. Training people who are involved in emergency planning and response is fundamental to an organisation's ability to manage any emergency. Exercises can be discussion based, tabletop or live.
Working with a variety of clients nationally, across many sectors, to develop their capacity to effectively manage emergencies that might be encountered in the workplace. We consult on a range of professional matters to develop resilience across your workplace or community.
Why undertake Emergency Management Training?
Are we prepared for another response?
Emergency Management Training prepares your organisation / business for incidents / emergencies / response.  Emergency and non-Emergency events can occur with little lead in time.
Consider:  What steps do you need to take to reduce the impact of, prepare for, respond to and recover from different incidents / response? Whether you are an CEO, Executive, Risk Manager, Emergency Responder, Health and Safety Representative or someone with a genuine interest in emergency readiness and workplace safety, then we encourage you to learn more about our Training Courses.
More in this section…