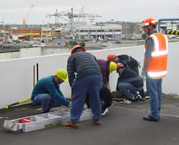 These training packages ensures that staff (other than floor wardens) have a clear understanding of their responsibilities and actions expected of them in an event of an emergency which affects their building and its occupants. Training can vary from one to three hours duration depending on the needs of your organisation.
This is one effective way of developing a 'we' culture of safety within the organisation. A good way to develop interest amongst staff for taking up roles in response teams.
For further information telephone 04 232 5363 or contact Sharyn by email.