We deliver Civil Defence Rescue Training throughout New Zealand. As a category one NZQA Training Provider for 19 years, we are experienced private training providers in this sector.  We have, for a number of years, been contracted at a national level as General Rescue trainers and assessors.
We deliver training to integrate General Rescue training with Urban Search and Rescue (USAR) to ensure workplace response teams are able to prepare the way for local response teams, New Zealand Task Force teams and International Rescue Teams that may follow. Our training incorporates the latest changes brought about by the Civil Defence Emergency Management Act 2002.
New Zealand is a country at constant risk of civil emergencies. Ongoing strong earthquakes in New Zealand, as well as internationally e.g. Italy, highlight the need for all New Zealanders to prepare ourselves to deal with these events.
Tailored Training Packages
Our tailored Civil Defence Rescue Training packages provide both theoretical and practical training, enabling course participants to develop the skills required to become effective members of a light rescue team for civil defence purposes and workplace emergencies. Our content includes important information about preparing ourselves for tsunamis that may follow an earthquake.
Government agencies, emergency services, councils and lifelines groups are required under the Civil Defence Emergency Management Act 2002 to ensure that they are able to function to the fullest possible extent, even though this may be at a reduced level, during and after an emergency. For all other business it makes good sense to prepare for emergencies. Look after the most valuable assets your business has… your people.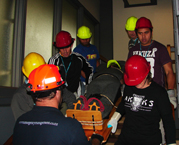 Testimonial
'It was a fantastic day and I had a lot of fun.  It was the most relevant and useful training I have received and helped my confidence to be able to keep myself and others safe should an emergency occur. ' JE  Read more testimonials here.
Contact Us to Discuss
To find out more information and to discuss how we can assist you to develop a training course that meets your needs contact the team.